This event is expected to be very popular, so please register in plenty of time to secure your place. To find out more, and register, please click on the image below or use the QR code. There is a GBP 20 discount for ALSGBI members.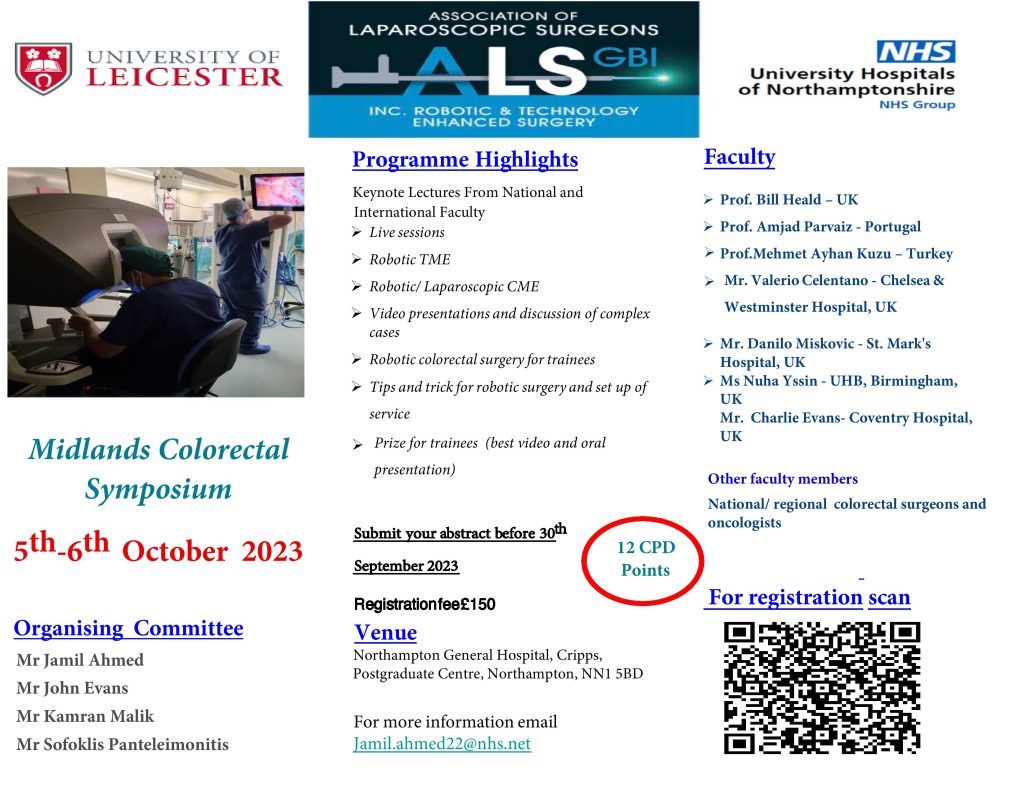 On behalf of the colorectal team at Northampton University Hospital NHS trust, we would like to invite you to attend the Midlands Colorectal Symposium on the 5th and 6th of October 2023.
Keynote lectures:
A journey through "HOLY PLANE" – Prof. B Heald – UK
Training in Robotic Colorectal Surgery – Prof. Amjad Parvaiz, Director of European Academy of Robotic Colorectal Surgery (EARCS) – Portugal
Anatomy for colorectal cancer surgery – Prof. Mehmet Ayhan Kuzu – Turkey
Robotic approach for IBD resections – Mr. Valerio Celentano IBD & ileoanal pouch surgery centre – Chelsea and Westminster Hospital, London, UK
Concept of CME for right colonic cancer- Danilo Miskovic, St Mark's Hospital, London, UK
Robotic Colorectal Surgery – Mr. Charlie Evans, Coventry, UK
Robotic Surgery: A pathway to the future- Ms Nuha Yassin UHB, Birmingham, UK
Other features:
Live Robotic TME
Live Lap/ Robotic CME
Video presentations and discussions
Latest Technology and Innovation
Robotic colorectal surgery for trainees
Tips and trick for robotic surgery and set up of service
Update of colorectal oncology
To find out more and register  for the event please scan QR code below
To find out more and register please scan attached QR code
Registration fee – £ 150
ALSGBI members – £130
We are looking forward to see you in October 2023.
Best wishes,
Organising Committee