To learn more, and register, please click on the image immediately below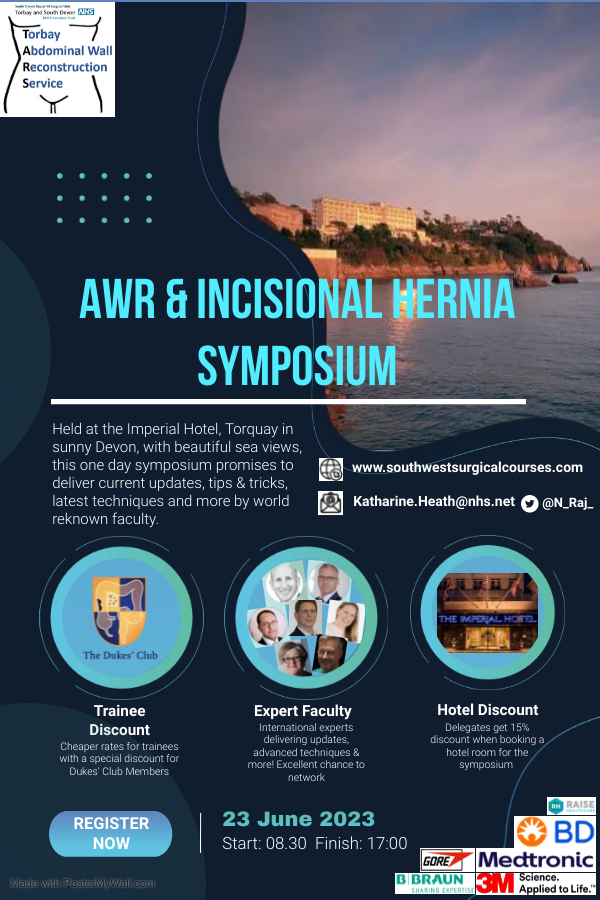 Abdominal wall reconstruction is a complex surgery and the decision-making can be quite tricky, now there is a realisation that it should go through an MDT process to get an optimum result and MDT also helps to decide which cases should be referred to tertiary specialised centres.
Although AWR is not normally considered a sub-speciality,  more and more people are realising that it is better performed by surgeons with a special interest and up-to-date, evidence-based techniques. In the majority of cases surgeons are still using either an onlay mesh technique or a laparoscopic approach with bridging (not retro-rectal technique) where a retro-rectal repair with +/- component separation would have provided a better outcome (either open or laparoscopic/robotic approach).
Some cases need plastic involvement to excise excess skin and soft tissue which may or may not available.
With so many different mesh options  (synthetic, biosynthetic and biologic) there is always a confusion as to which is the best choice and evidence is constantly changing. Hence having a regional conference allows local/ regional Consultants and Trainees to stay up to date.
One more area which the British Hernia Society is trying to highlight is the importance of a registry, so that we can all record the number of cases we are doing, techniques, we can measure an outcome and learn from it.
Lastly we see most of the complex abdominal wall hernias started because first surgery for a simple defect was not performed properly, or enough precautions were not taken to prevent a subsequent incisional hernia during initial laparotomy. So we have found speakers who are passionate about preventing these issues.