Please click on the image below to book your accommodation at the Hilton. Rates are guaranteed until September 30, when the rooms specially set aside will be released.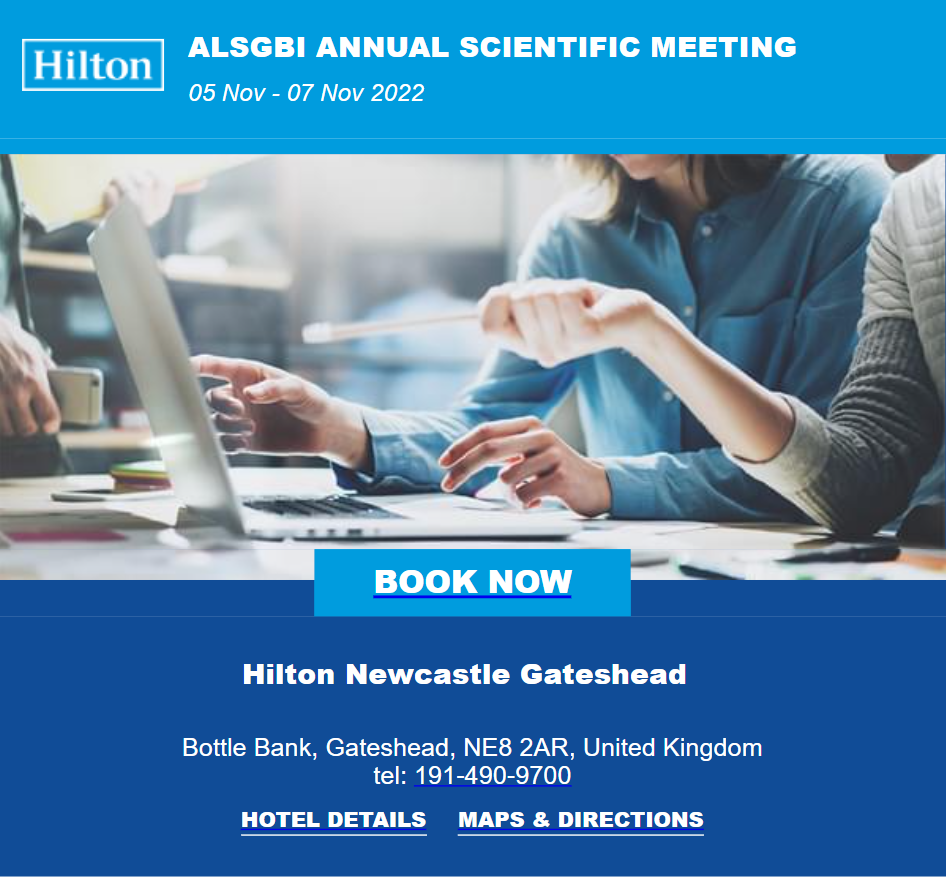 The Hilton Newcastle Gateshead, with inter-connecting doors to the conference venue, is a most convenient place at which to stay. Competitive room rates have been negotiated for delegates, industry and contractors wishing to stay on Friday, Saturday, Sunday, Monday and Tuesday nights. The hotel overlooks the Tyne Bridge and is less than a mile from Gateshead metro station and eight minutes from the A1 motorway. The Quayside area is a short walk away, home to nightlife hotspots, Sunday markets, and art exhibitions. Utilita Arena and St James' Park are within two miles. Enjoy the indoor pool with a sauna and steam room, and the restaurant with river views.
All bedrooms are en-suite, include a work area, are spacious and comfortable, equipped with environmentally friendly air-cooling, tea and coffee facilities, hairdryer, direct line telephone, free Wi-Fi access and Freeview TV.
FACILITIES AT A GLANCE
• Six-Storey four star hotel with breathtaking views of the Newcastle skyline
• 254 Guest rooms including family, triple (supplement of £20 for 3rd person for breakfast) and accessible rooms
• Free Wi-Fi Access
• Laundry Service
• 24 Hour Room Service
• Fitness Centre & Swimming Pool
• On site restaurant open from 6pm
• On site bar open from 10am
• 184 Space Residential Car Park (reduced tariff applies)
RATES
Our special rates are:
Friday 4th November 2022 – £115.00 Bed & Breakfast based on Single Occupancy
Saturday 5th November 2022 – £150.00 Bed & Breakfast based on Single Occupancy
Sunday 6th November 2022 – £80.00 Bed & Breakfast based on Single Occupancy
Monday 7th November 2022 – £125.00 Bed & Breakfast based on Single Occupancy
Tuesday 8th November 2022 – £115.00 Bed & Breakfast based on single occupancy
TERMS & CONDITIONS
• Please be mindful that the room check-in is from 15:00 and check-out time is 12:00.
• Reservations will be confirmed via email within 10 minutes of booking.
• Reservation can be cancelled up to 14 days prior to arrival with no charge. Later cancellation or
no show will incur cancellation charge at the agreed room rate.
• Delegates will be required to settle their own account directly with the hotel upon arrival.
• The above room rates are guaranteed until 22 September 2022, subject to remaining availability.
• Luggage may be stored by the hotel reception before check-in and after check-out and until the
end of the event.
ALTERNATIVE HOTEL
Jurys Inn Gateshead, Quayside, South Shore Road, Gateshead NE8 3AE (close by)
Intouch International have accessed special rates at this hotel as follows:
Saturday 5 November – £110 including breakfast based on single occupancy;
Sunday 6, Monday 7, Tuesday 8 November at £60 per night, including breakfast based on single occupancy.
These rates are only available via Intouch and not directly with the hotel. To book please contact Julie by email at julie@intouch-international.com. The special rates are only guaranteed until 7 October 2022 when the capacity will be released. Cancellation will be free of charge before 28 days, any cancellations after that date could be chargeable if not reallocated.